Meditations
Download and Listen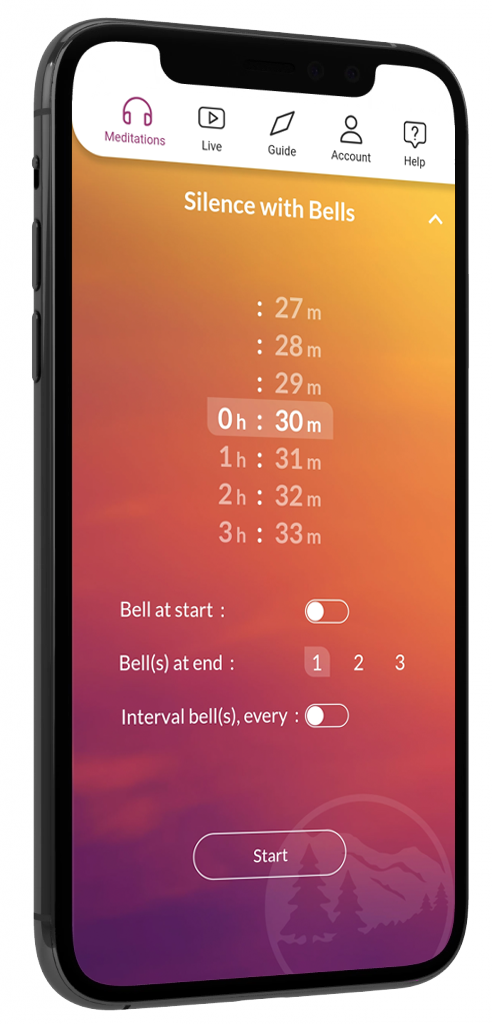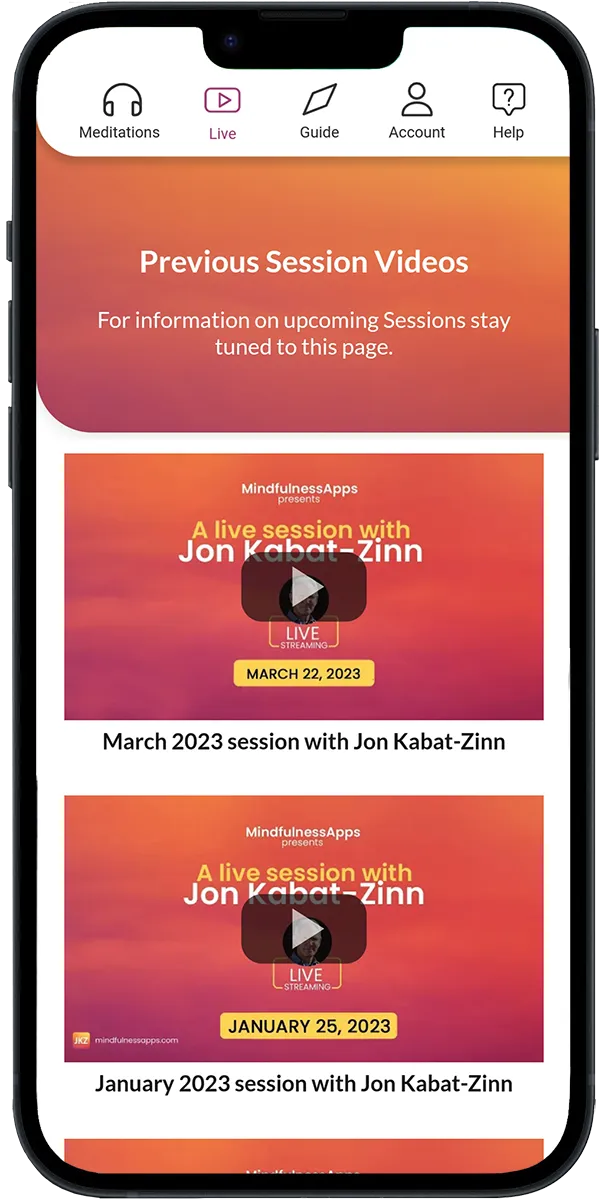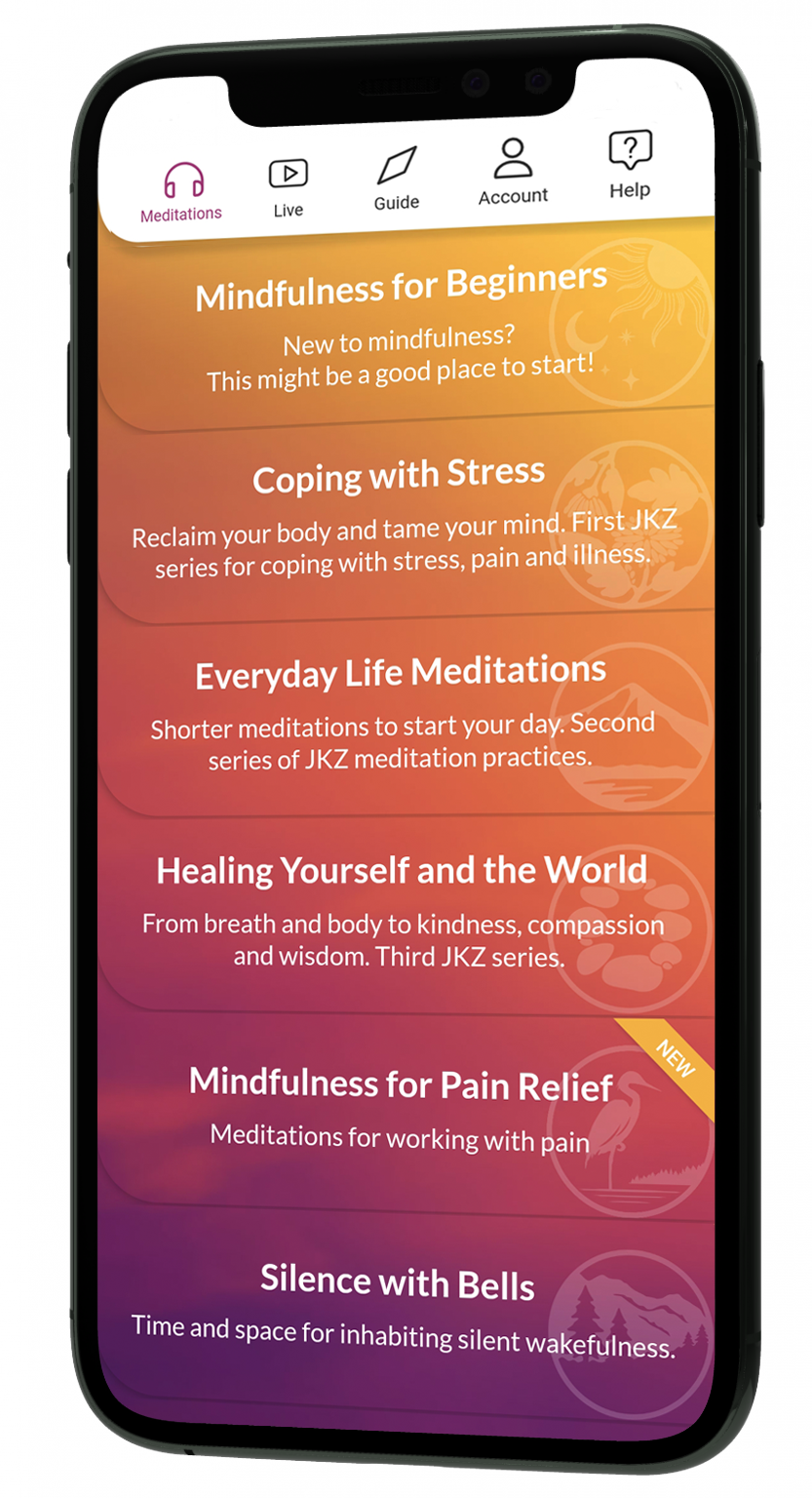 Great Ap
I took the MBSR at UMass last year. Changed my life. Although i usually like to meditate in quiet, sometimes I need some guidance and JKZ knows how to guide a meditation. Looking forward to what he does next. Customer service is excellent.
WEMasters – Oct 6, 2021
Excellent Tech Support/Customer Support
JKZ tech support provided outstanding support in the resolution of the issue I was having with app functionality. Their help is very much appreciated.
BP647 – Dec 6, 2021
Life enriching
This app features Jon's original guided meditations plus much more. I just attended one of Jon's live-stream discussions (included in this app subscription) and was quite literally blown away. There's lots of good content here and more coming from what I hear. Note that I updated my initial review after hearing back from the developer (below) and attending one of the live events. I was too hasty in my judgement.
Leapful – Dec 8, 2021
Life changing
After reading full catastrophe living, I got this app immediately. I do a guided meditation every single day after my yoga practice now. Jon has truly changed my life in ways I am immeasurably grateful for. Please do yourself a favour and read his book and get this app! I am always telling everyone it is necessary to living your best life and being present. Thank you to everyone who has made the app possible and so much love to you Jon. You are truly a hero.
Vvdgbcsssthbsdghuhvdf – Dec 10, 2021
Bliss
I utilize this app daily for meditation also to review the amazing video content that has been posted monthly. This app is solid gold. Mindfulness is a way of life a way of being, as Jon would say it's wakefulness.Customer service with this app is immediate and prompt and the content is beyond exceeds all my expectations.
caribchakita – Dec 10, 2021
Jon Kabat-Zinn MBSR changed my life
I love this App. It's simple and gets the job done. After I look the 8-week Mindfulness Based Stress Reduction course (MBSR) developed by Jon Kabat-Zinn and reading Full Catastrophe Living, by Jon, my whole relationship to myself and the world changed for the better. Meditation takes consistent practice and also an understanding of what Awareness and being in the moment means. I love the mindfulness reminders that I can set throughout the day. And I love all of the different MBSR meditation sessions. You also get exclusive live videos and the recordings. I reached out to their help desk because I wasn't able to see the videos at first. They helped me solve the problem.
Trini Liz – Dec 30, 2021
Powerful and one of the very few apps I use every day
This app is my go-to as I practice a curriculum that is life changing and life giving. I really look forward to ingraining the current content, learning new content, and attending live sessions in 2022. Thank you for this app.
gfoxpotter – Jan 10, 2022
Brilliant – one of the better meditation practices
This is a responsive and deep meditation app which supports the book on understanding pain and pain management. It has a gentle and mindful approach to meditation with some yoga instruction which is suitable for both experienced and beginner practitioners. The variety of meditations ensures that practice remains engaging and although it has no bells and whistles like some of the other apps that I tried, I would thoroughly recommend it. Enjoy!
I dispair - Jan 17, 2022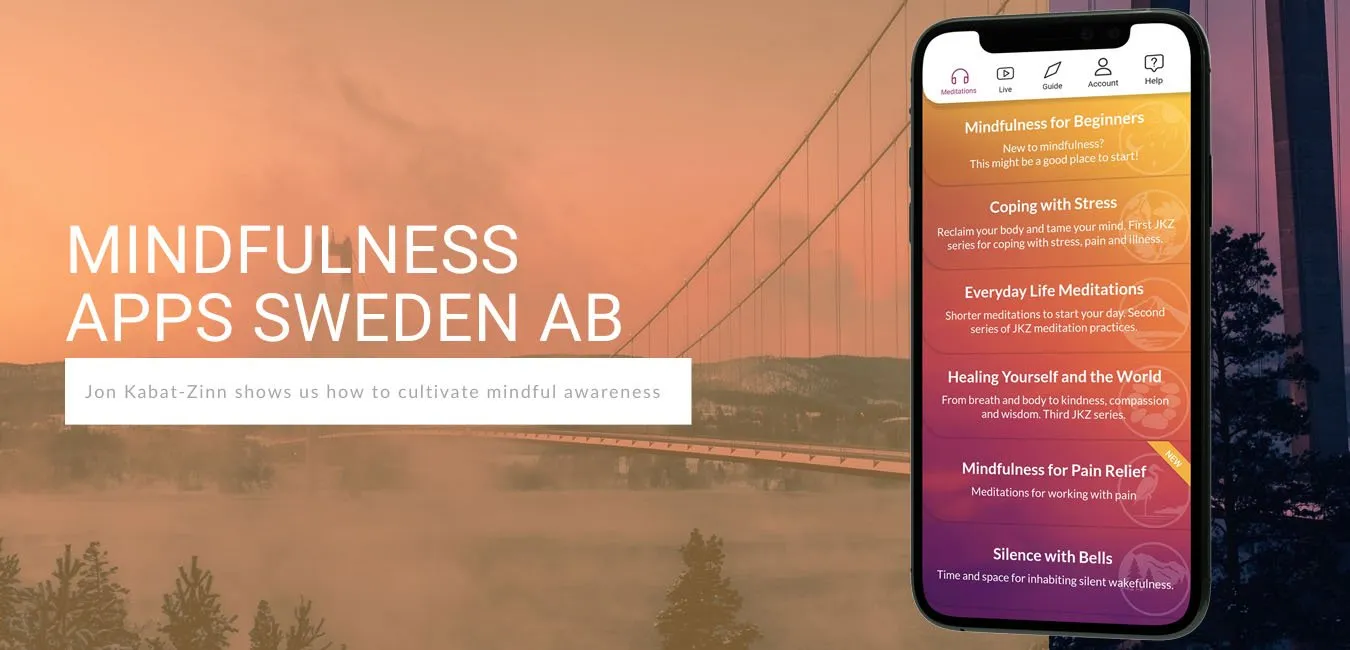 … breath by breath, moment by moment.
― Jon Kabat-Zinn